---
Lajitas, Texas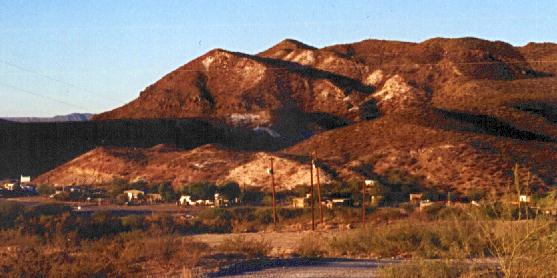 Looking across the Rio Grande from Lajtias
The town of Lajitas includes dwellings on both sides of the Mexico-U.S. border.
Lajitas, Texas is about 20 minutes (10 miles) from TXAR. The original town has never been very large. There is a trading post/store (oldest continually operated store west of the Mississippi) in town where one can stop to buy gasoline, quench a thirst, buy the two mayor a beer [1], or just examine the bullet holes in the walls left by Pancho Villa.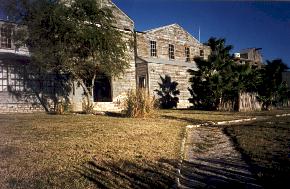 Back of the convention district of Lajtias
Lajitas on the Rio Grande is a resort.
The town of Lajitas is now mostly the Lajitas on the Rio Grande resort. Although not popular in the summer when temperatures can fry eggs, in the winter it can sometimes be difficult to find a room. While it appears as an old western town, it's actually quite new - a reconstruction on the foundations and sites of older buildings.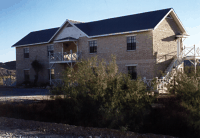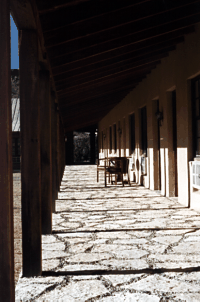 Officer's quarters and quadrangle at Lajtias
The hotel at Lajtias was built on the foundations of General Pershing's base in a style similar to the original.
When one has exhausted all the entertainment in town of Lajitas, Terlingua is right around the corner. Terlingua is a partially rebuilt mining ghost town. The area was once a prolific quicksilver district.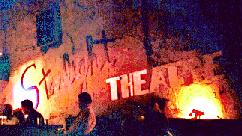 Starlight Theatre in Terlingua, Texas
Thirty minutes up the road, in the ghost town of Terlingua the Starlight Theatre offers live entertainment.
---
[1]The town mayor is quite literally a goat. He's learned to drink beer from cans, bottles or nearly any other container and can chug a beer quicker than any human. Few have been able to best him in drinking contests -- in the mornings. In the afternoons, after the tourists have been around, it's not too difficult.
---