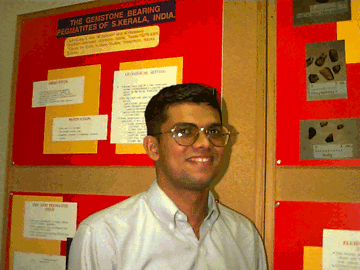 THE GEMSTONE BEARING PEGMATITES OF KERALA, SOUTH INDIA
Ajith-Kumar S. Nair
Gemstones, the most precious of all minerals, are found associated with pegmatite (primary gemstones), stream gravels and placer deposits (secondary gemstones). Southern Kerala preserves a wide variety of gemstones associated with pegmatites or stream gravels in various localities. The gemstone pegmatite field of Southern Kerala defines an area of 70 x 35 square km, hosting precious and semiprecious stones such as chrysoberyl, ruby, sapphire, topaz, emerald, zircon and korneurupine. In the geological history this part of the world was associated with the Gondwana supercontinent and defines three distinct zones trending NW-SE. Petrologic, fluid inclusion, thermal decriptation and isotopic studies shows that the gemstones crystallized from a felsic melt at temperatures around 550 degrees C and pressures of around 2 - 4 kbar. The volatiles were enriched with CO2 (70 - 140 ppm) and their carbon isotopic composition value of -8 per mil suggest a juvenile magmatic nature. The gemstone bearing pegmatites may therefore represent cryptic pathways through which large volumes of felsic melts migrated. The timing of these pegmatites is correlated with a prominent tectono-thermal event (Pan-African) at around 500 Ma.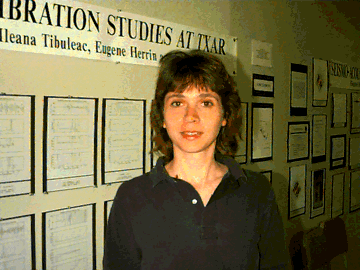 ARRAY MEASUREMENTS OF TELESEISMIC P AND PcP SLOWNESS AND AZIMUTH RESIDUALS WITH IMPLICATIONS FOR LATERAL HETEROGENEITY IN THE LOWER MANTLE
Ileana M. Tibuleac


Anomalous slowness residuals as large as 2-3 s/deg, for P waves turning in the lower-most mantle as well as for PcP waves, were observed for all the seismic arrays in North America. Actual data recorded at TXAR (Lajitas, Texas) present definite patterns with abrupt changes of sign between different regions. Seismic reflections from the Earth's core (PcP) show angles of incidence up to 75 percent greater than predicted by the standard Earth model currently used in seismology. The variations are reflected also by the azimuth residuals but not by the travel time residuals.
These observations indicate that the velocity gradient in the lower 1500 km of the mantle in the vicinity of the reflection points is not radial as assumed in the standard model, but is significantly inclined. A non-radial gradient is to be expected in the transition zone between high velocity and low velocity regions in the lower mantle.
Maps of slowness anomalies in the lower mantle, from array data available at this time are presented.
The method uses short period (about 1 second) P and PcP waves, therefore has a resolution of several tens of kilmoeters, unattained by other previously used methods and should prove to be a powerful tool for the investigation of mantle velocity structure when used in conjunction with travel time tomography.

Maintained by vineyard@io.isem.smu.edu