---
Introduction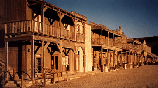 Since GSETT-1, Southern Methodist Univeristy's geology department has maintained and operated a remote telemetered experimental seismic observatory near the town of Lajitas, Texas on the southern Texas border with Mexico. This is close (as distances are measured in Texas) to Big Bend National Park and Big Bend Natural Area, a favorite vacation spot, and a spot for rafting the canyons of the Rio Grande.

Chosen for its remote location far from common cultural and seismic noise sources, the Lajitas area is an ideal location for testing state-of-the-art seismic equipment and techniques. Except for a few times a year, when the area receives visitors from movie companies filming nearby, or from participants in the world-class chilli cook-off, it holds the title of "The world's quietest seismic site"[1].

The remote location (a full day's journey by air and truck from Dallas) desert conditions (temperatures in the summer of over 120 degrees F) and the lack local facilities (next morning package service arrives at 5pm, a drive into town to pick up a new battery may take all day) has encouraged the development of reliable high-availability systems that can be maintained with little local support.

Lajitas, Texas Seismic Station
Prototype Alpha Array Element
First tested at Lajitas in 1993

---
[1] It's sometimes difficult to explain to people just how quiet it can get at the Lajitas seismic site. When it is quiet, and the wind isn't blowing, it challenges the limits of human hearing. For example, we have been able to clearly hear what appears to be the air-coupled surface wave from a distant sledge-hammer.
"At night, when it is really quiet, the sound of your own hair growing can keep you awake" --- Paul Golden, 1995